How to Use LeanBoard Effectively for Great Business Ideas
Whether you are a business with an exceptional idea in mind or a team motivated to find the next big thing, the Business Model Canvas offers a great advantage. A Business Model Canvas is a visual template where you can formulate, structure, and detail significant elements of business model design. In this way, you and your team can develop the necessary foundation for a successful product development and management plan.
In the past, leaders and teams needed to come together to brainstorm and to create many versions of the Business Model Canvas. Whereas the purpose of the model is to facilitate a smooth and seamless product vision, arriving at the final version could be frustrating and difficult due to how lengthy and demanding in-person and physically written documents can be. Fortunately, online interactive tools such as The LeanBoard App, developed for Jira Cloud and Confluence Cloud, make the Business Model Canvas much easier to achieve. Specifically, this app contains a pre-designed business model canvas template which you and your team can work on and collaborate on together with ease. You can even try it in the LeanBoard app, for Jira and Confluence, for free today!
What is the Business Model Canvas template?
The Business Model Canvas is a visual guide that describes 4 main areas of any thorough product model or business idea development and management: customers, offering, infrastructure, and financial viability. It accomplishes this by breaking these sectors down into 9 accessible building blocks. With LeanBoard, the building blocks will be laid out in a structured and organized manner in a premade template. It is the ideal starting point from which to launch your business idea. The following boxes will appear on the template: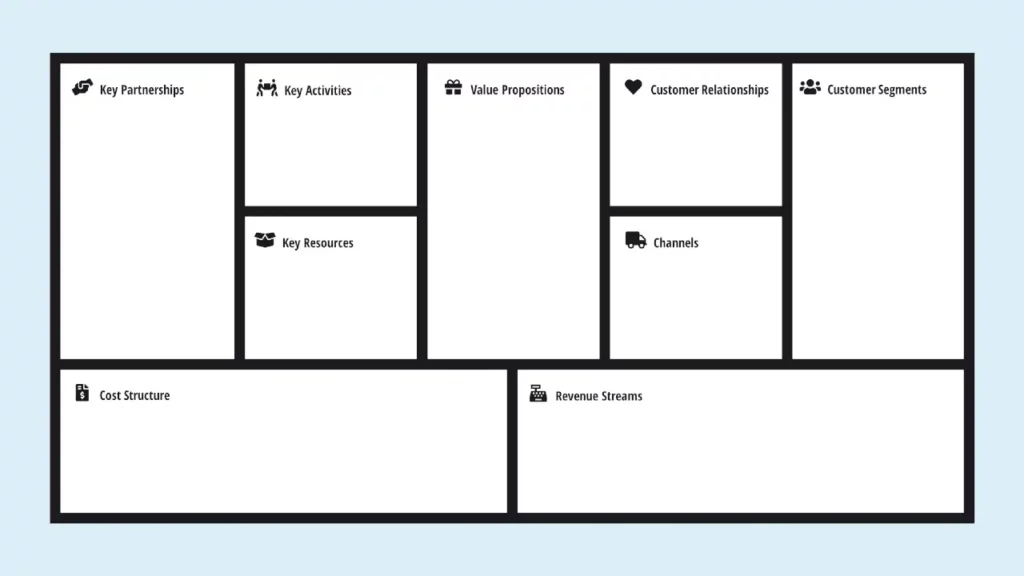 Customer Segments: Customer Segments are your target audience. With LeanBoard, it is easy to develop personas detailing consumer experiences, challenges, and goals to help you understand why they would need your product and how your product appeals to them.
Value Proposition: Value Proposition is the reason/s why your target audience would choose your product over competitor products. You are completely free to add images, links, or PDFs detailing competitors for future reference.
Channels: Channels show exactly how your consumer will find out about your product and how your consumer will acquire your product. Your team can discuss ways you can make marketing, distribution, and delivery easier for target customers; they can also add relevant charts, polls, and data indicating the reasoning behind the choices.
Customer Relationships: It is important to know how you will hold onto a customer or develop your relationship with your customer once you have attracted them with your product. If your business has always been established, you may include statistics showing how you have maintained customers in the past.
Revenue Streams: There are two types of revenues, from one-time customers and ongoing customers. You can brainstorm ways to develop both types of streams; add tests and visuals to make this aspect more appealing to the team.
Key Resources: Product development and management, and ongoing businesses, need resources to pull from. It is an excellent idea to list the resources you have at your disposal for your current project.
Key Activities: Key Activities are the tasks that are essential to your business. They must be noted to make sure your priorities do not fall on the back burner.
Key Partnerships: Key Partnerships indicate where your business is thriving, as you can gain resources in various manners from your partners. Noting these aspects, in texts or sticky notes, may assist your team later on in the product development process.
Cost Structure: As with all businesses, there are costs with operation. It will also be great to list costs expected with your new project. Your planning may lead to creating further whiteboards where you break down these costs or explore the reasoning behind the costs.
How can I use the Business Model Canvas template on LeanBoard?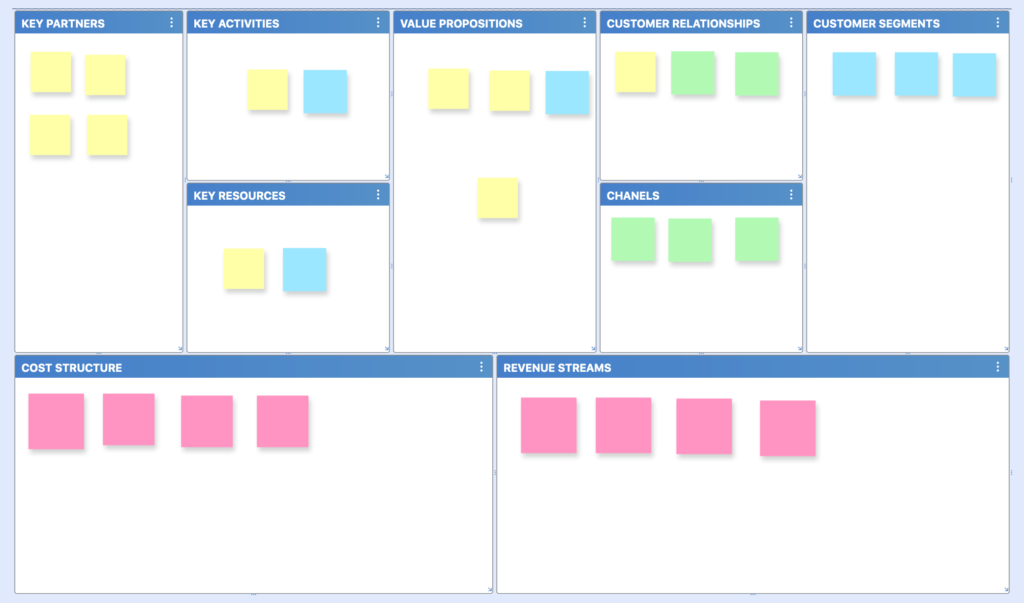 LeanBoard offers a virtual business model canvas template that allows you to organize ideas, strategies, and facts into neat sections that have already been designed. In this way, you do not have to wonder how to begin building your business model or product idea. You and your team can jump right in and begin brainstorming, determining all the basic elements of a successful project.
However, you can ask so feel free to customize your template in a way that suits your business, business model, and team in the best way possible. With LeanBoard, you can hold meetings, chat with team members, record notes and audio, integrate videos and images, add checklists and drawing pads and sticky notes, amongst many other advantageous features. Of course, the LeanBoard App will also accommodate easy integration with Agile boards, user story maps, customer journeys, and road maps that will allow for broader product development and management.
How can the Business Model Canvas template on Leanboard help?
With LeanBoard, you can reap numerous benefits when using the Business Model Canvas template:
Structure: When you have the Business Model Canvas template as a guide, it is easy for your team to constantly refer back to it when planning out objectives or tasks in other areas of the LeanBoard App. It is also an exceptional reference point for meetings and retrospectives.
Quick and Efficient: If you are just getting started on a business model, or your product idea is just beginning to bloom, a pre-made Business Model Canvas template allows you to quickly and easily see if your business idea is worth the pursuit and a basic vision for accomplishing the project.
Clear Direction: When you are pulling a team together remotely, having a clear and succinct vision right from the jump can be a great advantage. A Business Model Canvas can supply your team with continuous vision and inspiration.
Customers: A business model canvas will fuel your product development and management by placing customers at the heart of your vision. Often, businesses forget that their product development should not be product focused; they should be oriented on consumer needs in order to ensure a successful project. When you can continuously reference your canvas, you will never fail to remember this crucial element.
Where can I find Leanboard?
You can try LeanBoard for Jira or LeanBoard for Confluence for free! Enjoy creating business model canvases with ease, while appreciating that it can drive your future product development and management in a significant way. Turn your business ideas into product successes with LeanBoard today!